Doctor Who Tony Curran Interview - Vincent & Matt Smith
Source:
YouTube
Curran: A sci-fi gangster playing alongside Sean Connery
Actor Tony Curran joins 'Morning Drive' to discuss playing in the Arnold Palmer Invitational pro-am and playing with actor Sean Connery.
Watch the interview
here
Tweets from Tony Curran:
What a day, meeting Billy Murray & Darth Vader in the same afternoon,fine gents indeed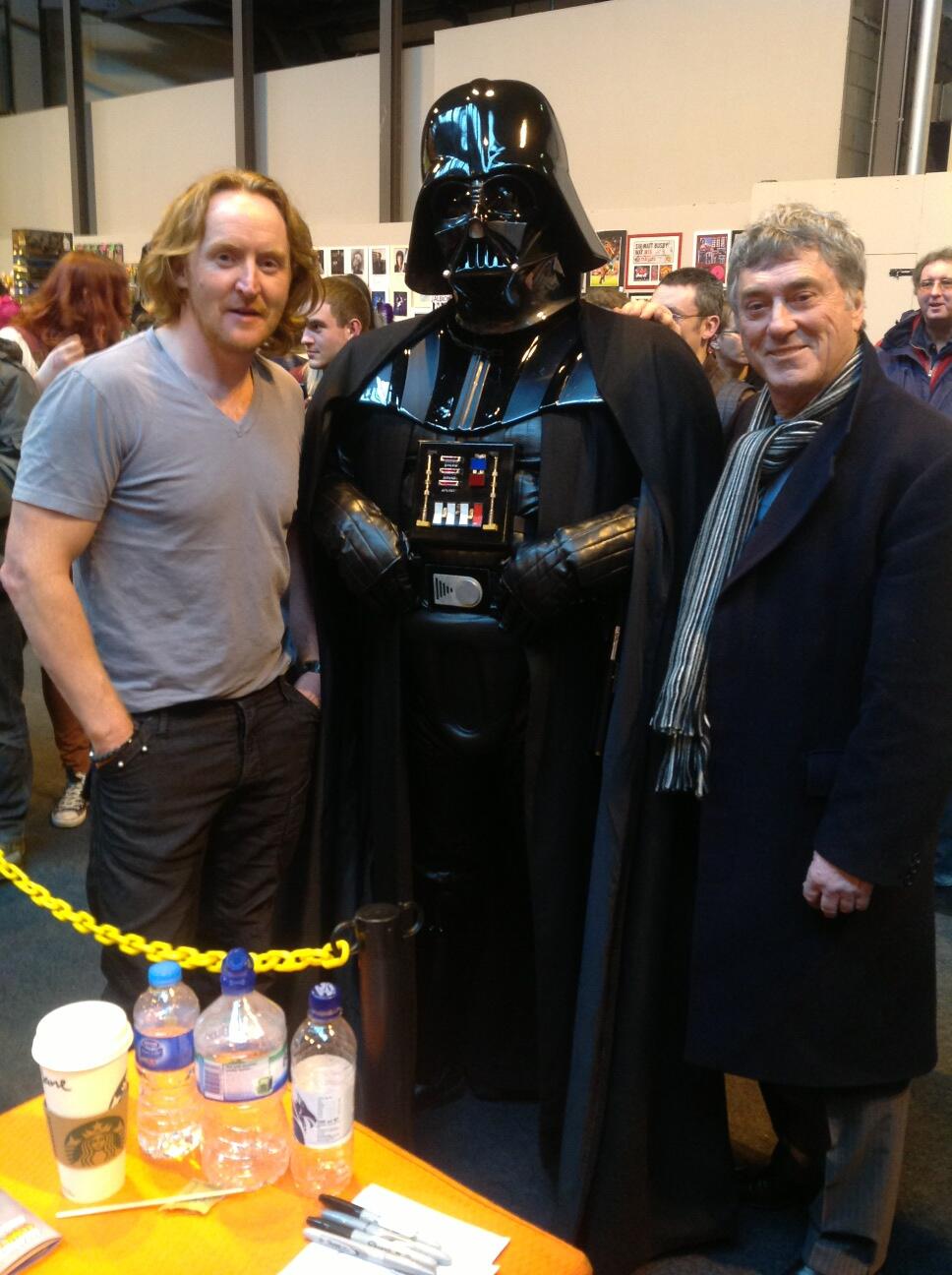 Source:
Twitter
Great time Birmingham Comic Con with my Sista

@

MsJaimeMurray

lovely people.

@

DefianceWorld

April 15th US 16th UK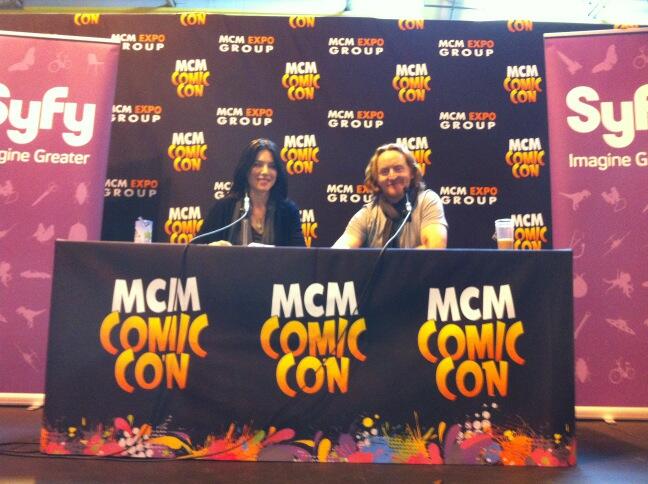 Source:
Twitter
Hanging with the Stormtroopers Birmingham comic con. Let's find these Rebel Scum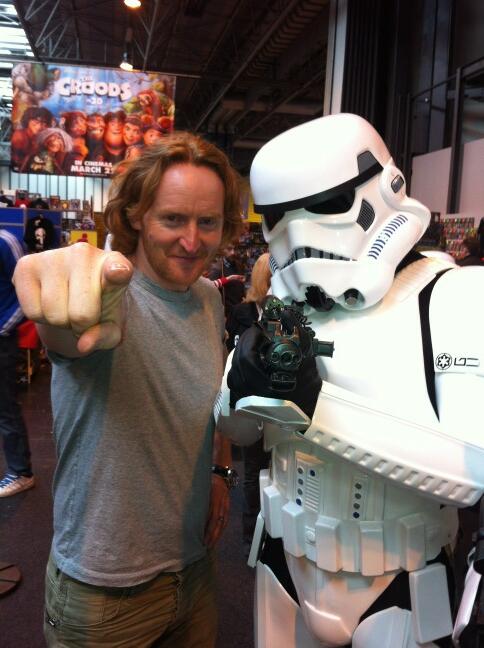 Source:
Twitter
Some photos with
Tony Curran
from official facebook fan page of actress Jaime Murray from the album @MCMExpo Comic Con 2013 are
here
DEFIANCE
Making of Defiance Preview: Alien Introductions
Aliens and humans must learn to co-exist on a dramatically changed earth. Meet the races of aliens that populate the world of
Defiance
.
Defiance
premieres April 15, 9/8c only on Syfy.
Watch the preview
here
TV Trailer: 'Defiance' On Syfy
Syfy has released a new trailer for their upcoming drama series
Defiance
, which is set to premiere on Syfy on Monday April 15th at 9/8c (and on Syfy UK on Tuesday April 16th at 9pm).
Defiance
is a multi-platform project encompassing an MMO game and Syfy's weekly TV series, in which events in one world can and will directly affect the other. Penned by
Farscape
creator Rockne S. O'Bannon, Defiance is set in the near future and introduces a world where humans and aliens must learn to live together on an exotic new Earth that has been transformed by alien terra-forming machines (For more detailed plot information on the series see our previous report). The series is produced by Universal Cable Productions and stars Grant Bowler,
Tony Curran
, Julie Benz, Jaime Murray, Mia Kirshner and Graham Greene.
Read more at
TV Wise

Spoiler free review of Syfy's Defiance – A refreshing science fiction space western
Ever since Syfy changed its name and added WWE to its lineup, its been looking hard and long for a cult classic scifi show to call its own. Over the past few years, Syfy has increased its reality TV lineup and competition shows based on public demand. We are not one of those people who enjoy reality TV, so when we first heard about the concept behind defiance we were excited but worried. Syfy is known for its goofy saturday creature features and hasn't had a hard hitting true to the core science fiction scripted show of its own since Battlestar Galactica finished. So word of Defiance comes along and the first thing we hear "video game and tv series tie in".
The idea of bringing in a video game to some how go along with the tv series was, what many considered, TV suicide. At a budget over over $100 million, it was a gamble that even large networks dare touch. To put this into prospective, Terra Nova on Fox cost $50mil for its first season and was cancelled and this was Fox spending the money. HBO, which is a premium pay channel, spent about $60 mil on its first season of Game Of Thrones. Now breaking down that $100 mil, $50 goes into the TV show and the rest into the game. The burden of the cost for the game is split between Trion and NBC, in which Trion takes the larger burden. The fact remains that $50 mil for Syfy and its parent company NBC Universal is a huge gamble.
So what is the bottom line on this gamble? Was it worth the money spent? ABSOLUTELY. And we will give you our spoiler free review as to why.
What is Defiance?
In the year 2046, it's a new Earth – with new rules. Over thirty years after various alien races arrived on Earth, the landscape is completely altered, terraformed nearly beyond recognition. To the town of Defiance, on what used to be St. Louis, comes the mysterious Nolan (Grant Bowler) and his charge, Irisa (Stephanie Leonidas). As they settle into town – overseen by the mayor, Amanda Rosewater (Julie Benz) and filled with residents like the powerful Rafe McCawley (Graham Greene), enterprising lounge owner Kenya (Mia Kirshner) and the ambitious, alien Tarrs (Tony Curran and Jaime Murray) – events begin to unfold that threaten the fragile peace this border town has fought for.
We were able to screen the first 3 episodes, which included a 2 hour pilot episode. The concept brings back memories of Firefly and the western style space drama it brought along with it. The story feels as though you could go on a thousand side stories with endless possibilities. Sometimes shows get lost on that and spend too much time with 'filler' episodes and don't advance the main plot. Defiance makes the right choice of mixing the two. While there will be an episode or two where the main story is what you might call a 'side plot', it manages to still advance the main plot by tying into the side story.
Who are the citizens of Defiance?
Joshua Nolan (Grant Bowler) is a former lieutenant in the Earth Military Coalition who fought in the alien conflict. Born prior to the Arks' arrival, he saw his comfortable life turned upside down when the war between the humans and Votans began. The conflict took its toll, and in the aftermath of Arkfall, he found himself a wanderer in a dangerous new world. There he was joined by Irisa, a young Irathient he raised as his own, and who served as his lone companion in the lawless badlands.
Grant Bowler is no stranger to the Syfy family, having appeared in Chiller's 2011 zombie opus, Remains, as well as three other major releases: Atlas Shrugged, The City of Guardians and The Killer Elite alongside Robert De Niro, Clive Owen and Jason Statham. Recent credits include playing Richard Burton to Lindsay Lohan's Elizabeth Taylor in Lifetime's Liz & Dick. Bowler is no doubt beloved by genre fans for his role as Cooter, the biker werewolf, on HBO's monster mash-up True Blood, as well as a turn on the sci-fi smash Lost as the mysterious Captain Gault.
An attractive Irathient woman, Irisa is Nolan's tacit second in command. Smart, independent and feisty, Irisa still struggles with the weight of her unusual upbringing. A drifter since birth, she only stays in Defiance due to the loyalty she feels for Nolan. Nolan has encouraged Irisa to leave behind her traumatic past. He rescued her at a young age, and the two have been inseparable ever since.
Stephanie Leonidas is known for her many television appearances, most recently in Whitechapel, Eternal Law, and the BBC's Dracula, as well as the award winning ITV film for television Wall of Silence. Other film credits include the lead role of Helena in David McKean's Mirrormask, Luis Llosa's feature filmFeast of the Goat, Ben Sombogaart's Crusade in Jeans: A March through Time,Luna and Andrew Douglas' U Want Me To Kill Him. Stephanie has also appeared on stage in the lead role of Dani in Marianne Elliott's The Sugar Syndrome at the Royal Court, receiving rave reviews. Most recently, she portrayed Adela in Gadi Roll's House of Bernarda Alba.
Kenya is the beautiful spitfire who runs the NeedWant, the town's bar and brothel. Self-assured and dauntless, she has an unwavering devotion to the town that has inexorably woven her into many of its complicated affairs. Growing up, Kenya rebelled by making trouble and embracing her sexuality. When Kenya arrived in Defiance, she took up residence at the NeedWant, eventually becoming its proprietor. She has a keen insight into the needs of others, but a blind spot when it comes to her own emotions.
Born in Toronto, Canada, Mia Kirshner studied Russian literature at McGill University in Montreal while pursuing an acting career in the early 1990s. Kirshner portrayed a young, clairvoyant dominatrix in Deny Arcand's Love and Human Remains before her memorable turn in Atom Egoyan's Exotica. In 1995, Kirshner had a supporting role in the Southern coming-of-age tale, The Grass Harp, starring Sissy Spacek and Walter Matthau. She then played the lead opposite Vincent Perez in The Crow: City of Angels and revealed her lighter side with a featured role in the spoof comedy Not Another Teen Movie. In 2001, she appeared as a professional assassin in the action-filled drama 24alongside Kiefer Sutherland.She's known to many for her role as Jenny in the critically acclaimed series The L Word. She followed that with a turn in Brian De Palma's The Black Dahlia.
Amanda Rosewater is the Mayor of Defiance. Every day, she uses her political wits to give this struggling town a chance for survival. Born in New York in 2011, Amanda shouldered a great responsibility at an early age, serving as a stand-in parent for her sister when their mother and father died during the Pale Wars. Adrift in a post-war world, Amanda eventually heard of a town where humans and Votans were attempting to coexist. She traveled to Defiance and accepted a job cleaning the mayor's office. Despite these humble beginnings, she so impressed then-Mayor Nicolette Riordon that, upon her retirement, Nicky appointed Amanda to finish out her term. Now, Amanda is determined to maintain peace in the community, an ambitious task in this deadly new world.
With chameleon-like abilities to transform from a bubbly blonde to a tortured brunette, actress Julie Benz won a Golden Satellite Award for her role as beloved Rita Bennett on Showtime's award-winning series Dexter. Benz recurred on the CBS medical drama A Gifted Man, and also starred in the TNT movie Ricochet. She also appeared on ABC's No Ordinary Family, followed by a stint on Desperate Housewives. Throughout her career, Benz has starred in an array of cult classics including Buffy the Vampire Slayer, Angel and Roswell, as well as the Steven Spielberg-produced alien abduction miniseriesTaken.
The wife of Datak Tarr, one of the most powerful men in Defiance, Stahma is beautiful and loyal, the perfect picture of a Castithan wife. Beneath the surface, however, lies a dark side that is ready to break from the traditional roles assigned her by her caste.
DatakTarr is the primary figure in Defiance's underworld, running everything from gambling to weapons smuggling and organized crime. True to his Castithan ways, Datak is always on the lookout for opportunities that allow him to get his hooks into people so he can later manipulate them to his own ends.
Tony Curran
rose to fame in the BBC series This Life. Since then, the actor has appeared in a number of major film and television roles, including The Invisible Man, The League of Extraordinary Gentlemen and Guillermo de Toro's Blade II. Curran is a graduate of the Royal Scottish Academy of Music and Drama.
Jaime Murray was born in London, England and named for Lindsay Wagner's character in The Bionic Woman. She is best known for playing Stacie Monroe in the BBC series Hustle and Lila Tournay in season two of the Showtime series,Dexter. She has also had recurring roles as H.G. Wells in Syfy'sWarehouse 13, Gaia in the Starz series Spartacus: Gods in the Arena and Olivia Charles in The CW series Ringer.
Rafe McCawley is Defiance's richest and most powerful human – a mine owner whose family has been in this territory for generations. Raised by a tough-as-nails father, Rafe disobeyed his father's wishes and enlisted. After the Pale Wars, he took his wife and burgeoning family back to his home of St. Louis, now barely recognizable due to terraforming. He longs for the world as it was before the Votans arrived.
Graham Greene's screen debut was in 1983's Running Brave, but it was his Academy Award-nominated role as Kicking Bird in the 1990 film Dances With Wolves that brought him stardom. This role was followed by appearances in such films as Thunderheart, Benefit of the Doubt, and Maverick, as well as the TV series Northern Exposure. Green also acted alongside Bruce Willis and Samuel L. Jackson in the 1995 film Die Hard With a Vengeance and played a Death Row inmate in the Oscar-nominated The Green Mile.
The Alien Races of Defiance
Indogene
The indogenes are a technically-minded race who augment their bodies with cybernetic implants. They value science above all else and make excellent scientists and doctors. Since most Indogenes stayed on the Arks in orbit, they are among the fewest in number of the Votan races on earth.
Irathient
They are among the most common race Votan race on earth. They are a tribal race who pride themselves on their low tech hand-to hand combat skills and are a deeply spiritual race.
Castithan
Catithans are an aristocratic and ethereal race. They perceive themselves as the most important species on Earth and have made use of their cunning intelligence and ambition to excel in social situations. It is rumored that they dominate the leadership in the Votanis Collective. Castithans belong to a rigid caste system that determines tehir social status from birth.
Bottom line is, Defiance is a must see series that could create a whole new generation of cult following for Syfy. Checkout another preview below and dont miss Defiance when it airs April 15th only on Syfy.
Source:
ThreeIfBySpace
Defiance - Red Carpet News TV: Tony Curran Video Interview
Tony Curran
is interviewed at MCM Expo by Red Carpet News TV.
Watch it
here
A fan had her photo take with Jaime Murray and
Tony Curran
, and has shared it via Twitter.
Honoured to have met the Tarrs. Defiance is going to be amazing! Thanks @MsJaimeMurray and @TonyCurran69 for coming!
See the photo
here
LABYRINTH
Channel 4 Sets UK Premiere Date For Mini-Series 'Labyrinth'
Channel 4 has announced that mini-series
Labyrinth
will receive its UK premiere on Channel 4 on Saturday March 30th at 9pm, and will conclude the following evening on Sunday March 31st at 9pm.
Based on the novel by Kate Mosse and adapted by Adrian Hodge,
Labyrinth
tells the story of 17-year-old Alaïs Pelletier from 13th century Carcassonne and modern-day PhD graduate Dr. Alice Tanner who, though separated by times, experience an adventure that intertwines their lives. As their parallel stories unfold, ancient and modern-day conspiracies are unearthed, all of which revolve around three hidden books: The Book of Words, The Book of Potions and The Book of Numbers. Together, these tomes hold the secret of the true Grail, which dates back to the Ancient Egyptian era many years before Christ. Alaïs and those closest to her must battle to protect the secret. She soon discovers she can trust no one, least of all her cruelly manipulative sister Oriane. Back in the present day, Alice faces a race against time to put together the curiously familiar pieces of a jigsaw puzzle representing her long-buried history. The mini-series is produced by Scott Free Productions & Tandem Communications and stars Tom Felton, Jessica Brown Findlay, Vanessa Kirby,
Tony Curran
, Sebastian Stan, Katie McGrath, Emun Elliott and John Hurt.
Source:
TV Wise
Ridley Scott's "Labyrinth" Fantasy Mini-Series
Sneak Peek director Christopher Smith's new $20 million budgeted time-shifting fantasy TV mini-series "Labyrinth", executive produced by Ridley Scott, based on the 2005 novel of the same name by author Kate Mosse.
Cast includes Vanessa Kirby, Jessica Brown Findlay, Katie McGrath, Tom Felton, Sebastian Stan, Emun Elliott,
Tony Curran
and John Hurt.
"...two modern-day archeologists 'Alice Tanner' (Vanessa Kirby) and 'Alaïs Pelletier du Mas' (Jessica Brown Findlay) who has livved through the Crusades in medieval France, join together in a quest to find the 'Holy Grail'.
"Alice volunteers at a French archaeological excavation, and discovers the remains of two people in a cave, as well as a labyrinth-engraved ring, which attracts the attention of unscrupulous individuals.
"Time-shift to the year 1209, where newly married Alaïs is living in 'Carcassonne', a stronghold of the 'Cathars' who have been declared heretical by the Church.
"Alaïs and her father try to protect the three sacred books that reveal the secret of the Holy Grail from the 'Crusaders'..."
Source:
SneakPeek