From MSN's guide to
Labyrinth
:
As Kate Mosse's official website explains, Guy d'Evreux is: "a northern lord, with lands in Evreux in Brittany. Evreux is a cruel, unscrupulous man, obsessed with discovering the secret of the Grail."
Guy is played by actor
Tony Curran
who has popped up in everything from movies
Shallow Grave
,
Gladiator
,
Blade II
,
Miami Vice
and
The League of Extraordinary Gentlemen
to TV series including the likes of
This Life
,
Numb3rs
,
Primeval
,
24
and
The Mentalist
.
Doctor Who
fans will recognise him from his portrayal of Vincent Van Gogh and there's also
CSI: Crime Scene Investigation
,
The Hunt for Tony Blair
(as Robin Cook),
Boardwalk Empire
and
Hawaii Five-0
.
Source (including photo):
MSN
Win Labyrinth on DVD, The Novel by Kate Mosse and an Autographed Cast Photo
From Filmoria:
Based on the best selling novel by Kate Mosse, Labyrinth is a brand new TV series coming soon to Channel 4 and soon to be released on UK DVD, April 1. The story flips between two times, Medieval and modern day, but in the same location of Carcassone, France. Jessica Brown Findlay stars as Alaïs Pelletier and Vanessa Kirby as Dr. Alice Tanner. The all star cast also includes John Hurt, Tom Felton, Sebastian Stan, Tony Curran, Kate Mosse, John Lynch and Janet Suzman.

Here's the great news: we've teamed up with Universal UK to give away a copy of Labyrinth on DVD, as well as a copy of the novel by Kate Mosse and an autographed photo signed by cast members Katie McGrath, Vanessa Kirby, Kate Mosse, Chris Smith, and Emun Elliott. All you have to do to be in with a chance of winning is read the synopsis and answer the question that follows.

Labyrinth is out on DVD on 1st April courtesy of Universal Pictures (UK)
Read more at
Filmoria
The Tarrs are looking forward to getting on the Defiance bus.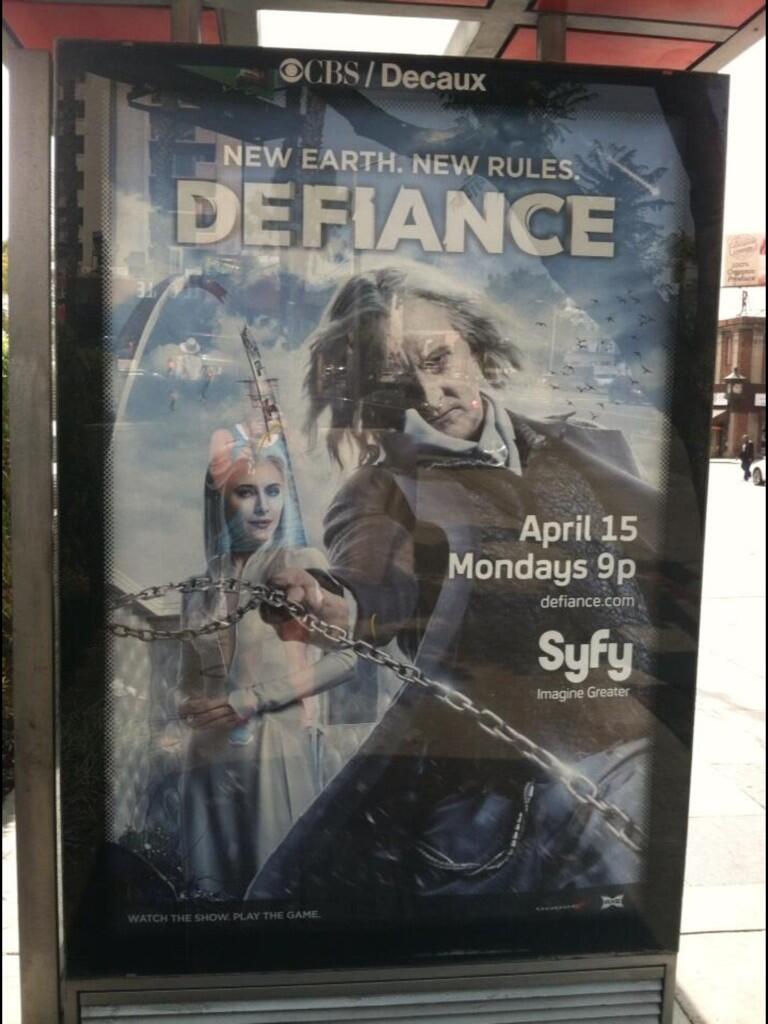 Source: Tony Curran (
Twitter
)
'Defiance' Series Premiere: Watch the First 14 Minutes Now
With a widespread marketing campaign and a multi-platform tie-in video game launching just shy of simultaneously for Defiance, Syfy is working hard to get the word out about their new sci-fi/western series. Now, three weeks prior to the show's launch, the cable network is releasing the first 14 minutes and 27 seconds of the pilot episode.
From Kevin Murphy (Caprica), the show is set in a near-future earth that has been wrecked and re-shaped by invading aliens. The show stars Grant Bowler (True Blood), Stephanie Leonidas (MirrorMask), Jamie Murray (Warehouse 13), Graham Greene (Twilight: New Moon), and Julie Benz (Dexter) as the residents of a small "border town" called Defiance, which has risen from the remnants of St. Louis.
Here's the official synopsis for the show from Syfy:
In the year 2046, it's a new Earth – with new rules. Over thirty years after various alien races arrived on Earth, the landscape is completely altered, terraformed nearly beyond recognition. To the town of Defiance, on what used to be St. Louis, comes the mysterious Nolan (Grant Bowler) and his charge, Irisa (Stephanie Leonidas). As they settle into town – overseen by the mayor, Amanda Rosewater (Julie Benz) and filled with residents like the powerful Rafe McCawley (Graham Greene), enterprising lounge owner Kenya (Mia Kirshner) and the ambitious, alien Tarrs (Tony Curran and Jaime Murray) – events begin to unfold that threaten the fragile peace this border town has fought for.
Defiance
premieres April 15th @9pm on Syfy
Read more at
ScreenRant
Defiance Panel with Tony Curran and Jaime Murray at MCM Birmingham Comic Con
Defiance
makes for a uniquely immersive property, in that it is both a MMO video game and also an epic sci-fi drama series. Jaime Murray and
Tony Curran
were at the MCM Birmingham Comic Con to talk about the upcoming TV series that they both star in.
The show follows on from the aftermath of a great war between various races of aliens and humans. With the Earth unstable and a distinct lack of any government, both aliens and humans realise that they'll have to cooperate if they wish to survive. The frontier town of Defiance is of the few with a sense of order, co-founded by Datak Tarr (
Tony Curran
), a Castithan who is happy to work alongside other races and wishes for a better future for his family. However, his wife Stahma Tarr (Jaime Murray) wishes to break from the traditional roles expected of her by her caste and at times goads her husband into gaining more control.
"They couldn't agree how we should look," said Jaime on her and Tony's appearance in the show. "They wanted us to look human enough, be the closest to human so you can relate to us, but still alien."
"Eventually once we got it, it takes about two hours to apply the wigs," said Tony. "There are other characters there that have more prosthetics, more alien like as it were. We're alien enough, we do have our own language."
"I learnt loads of alien," said Jaime of the new language she had to learn for her character, created by David Peterson who is also responsible for the Dothraki language in Game of Thrones. "Our language is spoken very, very fast. I listened to these tapes and I thought, 'Oh my God!' I mean I mess up the English language; I don't need another language to mess up! I really learnt it, and I just said it for weeks."
Tony also praised the show's costume supervisor, Colleen Atwood. "She's done mainly all of Tim Burton's movies. She's incredibly talented. [The costumes had] a nice look to it; it didn't try too hard to have this alien exterior."
"The costumes, they ended up being quite period, quite vintage," said Jaime. "I wear a lot of corsets, I'm often laced into stuff. I need someone else to dress me in the mornings! Sometimes I have to have them come to the loo with me!"
Read more at
MCMbuzz
Tony Curran Breaks Down the 'Defiance' World
Syfy is placing a big bet with the April 15th premiere of the new multi-platform show "Defiance." The multi-player online game bows on April 2nd, followed by the TV series. This unique fusion of a gaming aspect tied in with a sci-fi television series has genre fans eager to explore this new world. The series stars Julie Benz ("Dexter"), Grant Bowler ("Lost"), Jaime Murray ("Warehoue 13") and
Tony Curran
("Doctor Who"). We recently caught up with Curran, who plays the cunning and power-hungry alien Datak Tarr, to discuss the scope of the show, the breakdown of the aliens on the series, and how much of a gamer he is.
Read the full interview at
Xfinity
"Defiance" will launch as a multi-player online game on April 2, while "Defiance" the TV series will premiere Monday, April 15 at 9/8c on Syfy.
Videos -
Making of Defiance: Tarrs vs McCawleys
http://www.youtube.com/watch?v=Z5m1oBO5PZs
Watch the First 14 Minutes of Defiance
http://www.syfy.com/videos/Defiance/First%2014%20Minutes/vid:2634770
Syfy Releases The First 14 Minutes Of 'Defiance'
http://sciencefiction.com/2013/03/26/syfy-releases-the-first-14-minutes-of-defiance/
Defiance Tony Curran Interview
http://www.youtube.com/watch?v=d8a75TYQUVc&feature=player_embedded
Defiance - Red Carpet News TV: Tony Curran Video Interview
http://antipodalarapaima.blogspot.ru/2013/03/defiance-red-carpet-news-tv-tony-curran.html?spref=tw
Defiance Trailer: Changed World
http://www.youtube.com/watch?feature=player_embedded&v=k_MkyjVRZlw
Defiance | Feature-Length Trailer | Syfy
http://www.syfy.co.uk/defiance
Defiance | New & Exclusive | Tuesday 9pm from 16th April
https://www.youtube.com/watch?feature=player_embedded&v=_pQMflDA8bI#!
Photos -
We don't recommend getting into an argument with a Castithan. You won't win. Trust us
https://twitter.com/DefianceWorld/status/315840762904449026
http://ow.ly/i/1KsbO/original
The Tarr's are taking a bite of the Big Apple
https://twitter.com/TonyCurran69/status/316998075392602112/photo/1
@TonyCurran69, have you seen this?
https://twitter.com/Tara_to_a_T/status/316276741867982848/photo/1