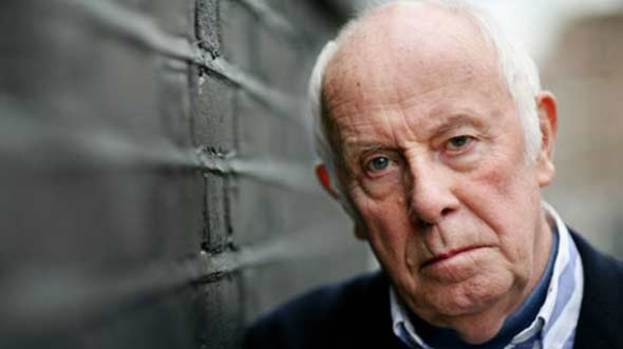 Richard Wilson teams with Bill Paterson in Glasgow lunchtime theatre
Oran Mor's award-winning A Play, A Pie and A Pint lunchtime theatre programme has been one of Scottish theatre's greatest success stories of recent years since it first opened in 2004. Now it has attracted two of its biggest stars to date, Scottish actors Richard Wilson and Bill Paterson - and this time Paterson is doing the writing as well.
The brainchild of David MacLennan, the Wildcat and 7: 84 Theatre veteran, the season has encouraged a host of new writers as well as allowing established names such as
Rab C . Nesbitt
creator Ian Pattison and Scottish makar Liz Lochhead to try new directions. But it has also had some starry casts, including
Robbie Coltrane
,
David Hayman
,
Elaine C. Smith
,
Taggart
's
Blythe Duff
, and most recently
EastEnders
' Gary Beadle.
Now the
Law and Order
and
Sea of Souls
star Paterson will join forces with
Tutti Frutti, One Foot In The Grave
and
Merlin
star Wilson on stage together for the first time in Paterson's play,
Astonishing Archie
, which opens on November 19th for one week only.
And MacLennan admits he couldn't be happier at attracting two such star names, after dates were switched to allow the pair to perform together.
"I can't begin to tell you how delighted I am to have Bill and Richard appearing together in the current season, " he says. " Bill and I worked together on "The Cheviot, The Stag and The Black, Black Oil", so we go back a long way. I thought I'd died and gone to heaven when he agreed to do it.
"But to get Richard on board as well…well, it's simply terrific. And I have no doubt audiences will be queuing round the block to see the two of them take to the stage together. Frankly, I can't believe I'm getting two stars for the price of one!"
Astonishing Archie
is Patersons' first play for the stage. "The play focuses on two brothers, one born before the second World War and the other after who are arranging the funeral of a friend, and looks at their differing attitude to life," says Paterson, who was recently seen on stage at this year's Edinburgh Fringe in euthanasia drama,
And No More Shall We Part
.
In fact it was during the play's Edinburgh run that Paterson and Wilson bumped into each other and Paterson suggested to Wilson they should do something together. "Richard and myself are the right ages for the parts and it's something we can relate to," he says. "So we're looking forward to it."
While the show is bound to attract plenty of attention, MacLennan hopes it won't be the last he sees of the two stars.
"Bill is welcome back anytime. While Richard has a reputation as a director of great note these days. In fact he probably directs more than he acts now. And hopefully he will enjoy the experience so much when he's up, that he'll look to come back and direct a show for A Play, A Pie, and A Pint, which would be great."
Astonishing Archie
, Oran Mor, Nov 19-24.
Source:
STV
More
Richard Wilson
project news ...
Straight
Sheffield Theatres' Studio season continues with the world première of Straight from Thursday 1 – Saturday November 24, a razor sharp new comedy by award-winning British writer DC Moore.
A blisteringly funny romp about male friendship and sexuality,
Straight
catches up with two regular thirtysomething friends from university. Freewheeling Waldorf and
family
man Lewis haven't seen each other in ten years when their worlds spectacularly collide and they make a bet that will take their friendship to a whole new level. Philip McGinley (Hobson's Choice) and Henry Pettigrew (Beautiful Burnout, Black Watch) play the old friends, alongside Jenny Rainsford as Steph and Sheffield-born actress Jessica Ransom as Morgan. Directing this new production is Sheffield Theatres' Associate Director
Richard Wilson
, who returns to Sheffield following his critically-acclaimed productions of
Lungs
and
The Pride
in 2011.
Completing the Creative Team alongside
Richard Wilson
is Designer James Cotterill, who reunites with Richard having worked with him on
The Pride
, Lighting Designer Johanna Town, Composer Michael Bruce and Casting Director Robert Sterne.
A Sheffield Theatres and Bush Theatre co-production,
Straight
is based on the motion picture Humpday, written & directed by Lynn Shelton and will transfer to the Bush Theatre after its Sheffield run (Tuesday 27 November - Saturday December 22).
Source:
Epworth Bells
Lennoxlove Book Festival
Sunday 4 November
Festival Marquee
8.00PM
/
£13, £11(C)
Richard Wilson
Immortalised as Victor Meldrew, dour and devious as Eddie Clockerty, manager of The Majestics in Tutti Frutti, and drily witty as Gaius, guardian of Merlin, Richard has enjoyed an extraordinary acting career. And behind the casts of characters is a man of huge experience: a research scientist who retrained as an actor, a National Serviceman and a one-time supporter of Greenock Morton. In a unique event, Richard comes to Lennoxlove to talk about his life and career and the films, plays and books that have inspired, amused and fascinated him.
Source:
Lennoxlove Book Festival
hiatus | a conversation with Richard Wilson
'Off the Shelf' Festival of Words, Sheffield
From Merlin Locations:
Our beloved Richard Wilson was the guest for a conversation with John Palmer, as part of the 'Off the Shelf' Festival of Words in Sheffield, South Yorkshire, on 17 October. The event took place at the Pennine Theatre at the Sheffield Hallam University, and was attended by a large contingent of happy people who'd obviously been fans of Richard for years. And also by me!
Read more (very detailed report, with photos) at
Merlin Locations