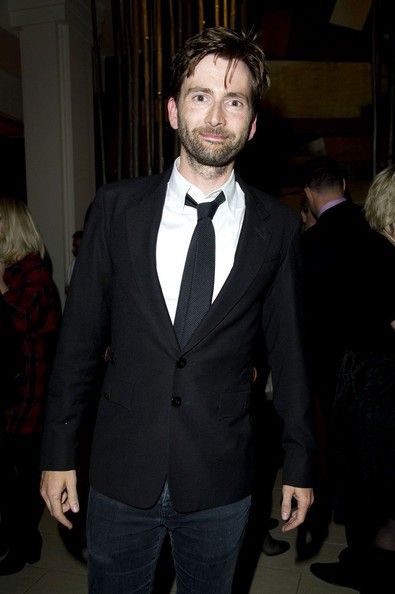 The Spies Of Warsaw goes international
Increasing its chances to be seen beyond the territories of its co-production companies, The Spies of Warsaw – starring David Tennant – is to be offered on the international TV market at MIPCOM 2012 next month.
BBC Worldwide are launching this and a number of other titles on the market including Top of the Lake, staring Elizabeth Moss (Mad Men) and written and directed by Jane Campion (The Piano), The Paradise featuring former Doctor Who guest star Sarah Lancashire (Partners in Crime), and A Young Doctors Notebook, starring Daniel Radcliffe (Harry Potter) and John Hamm (Mad Men).
The BBC's commercial arm will also be hosting the stars of Ripper Street, who will be appearing in Cannes to promote the series.
MIPCOM- held annually in Cannes – is a worldwide content provider for creating, co-producing, and buying, selling, financing and distributing entertainment across all platforms.
This year's event runs from the 8th – 11th October 2012.
The Spies of Warsaw – an adaptation of Alan Furst's novel by the legendary writing duo of Dick Clement and Ian La Frenais – a co-production between the UK's BBC Four, BBC America, ARTE France and Poland's TVP 1 (where the drama was filmed) is rumoured to be airing on BBC Four during the Christmas period.
Source: Kasterborous
More information at David Tennant on Twitter
Broadchurch location report
A number of famous faces have been seen in North Somerset as filming for a new drama featuring Doctor Who star David Tenant goes out on location.
Crews have been in the Clevedon and Portishead during the past weeks filming for a new eight part drama series, Broadchurch, for ITV1.
The star studded cast includes David Tennant, Olivia Colman, Andrew Buchan, Jodie Whittaker, Vicky McClure, Pauline Quirke, Will Mellor, Arthur Darvill and Carolyn Pickles.
Scottish-born David Tennant, aged 41, is best known for his work in theatre, as the 10th incarnation of the Doctor in Doctor Who and in the title role in the TV serial Casanova (2005).
Olivia Colman is a BAFTA nominated English comedy actress who received critical acclaim for her breakthrough performance in the 2011 film Tyrannosaur.
Most of the other players have all had considerable big and small screen success especially Pauline Quirke of Birds of a Feather fame.
Broadchurch is inspired by the series The Killing and written by Chris Chibnall, creator of Law and Order: UK and Doctor Who.
It explores what happens to a small community in Dorset when it suddenly becomes the focus of a police investigation following the mysterious and tragic death of 11-year-old Danny Latimer (Oskar McNamara).
Working under the glare of the media spotlight David Tennant will play a gritty detective who investigates crimes which other policeman have been unable to solve.
As DI Alec Hardy, an out of town, newly promoted police detective he takes the job local girl DS Ellie Miller (Olivia Colman) believes should have been hers.
The sadness of losing a child consumes the family, Beth and Mark Latimer (Andrew Buchan and Jodie Whittaker) and their 15-year-old daughter Chloe (Charlotte Beaumont) and Beth's mum Liz (Susan Brown) as they attempt to cope with their grief, everyday normal life and the abruptness of the unwarranted attention heaped upon them.
Mr Chibnall said: "Broadchurch focuses on a small British community which finds itself at the eye of a storm.
"In the wake of one boy's death, the residents of Broadchurch come under scrutiny and suspicion."
In the past week the crew has been filming at St Andrew's Church at Wains Hill, Clevedon as well as Strode Road.
Hill Road has been used to represent Broadchurch High Street where a number of exterior scenes have been shot.
The former Seeley's Newsagent in Hill Road is also being adapted, both inside and out, to turn it into the offices of local newspaper, The Broadchurch Echo - which sadly is only yards from the former Clevedon Mercury base at Albert Road.
A number of scenes will also be shot in the West End area of the town, around Marshall's Field and Clevedon Pill.
Two private houses in St Andrews Drive and Lavington Close will be used to represent the homes of some of the characters and St Andrew's Church will represent the Broadchurch parish church.
The drama is being filmed in and around the Bristol area until the end of November.
It will be broadcast on ITV during early 2013.
Read more at Clevedon People
More information at David Tennant on Twitter
A Puckish send-off for a free spirit of the arts world
Actor David Tennant stepped in to fulfil the dying dream of Brunswick Arts PR Helen Scott Lidgett and read a Shakespeare soliloquy at her memorial at Central St Martins. Comedian Arabella Weir, an old friend of Scott Lidgett, who died aged 63, said the tribute was a bone of contention.
"One thing we argued about was what was going to be read at her memorial. She said, 'You're going to read Puck's soliloquy because you're a professional actress', and I said, 'I'm absolutely not'."
In the event, Weir persuaded Tennant to speak from Shakespeare's Midsummer Night's Dream. Other tributes were led by Scott Lidgett's former business partner, ex-PM's wife Sarah Brown, artists Antony Gormley and Grayson Perry, Royal Academy chief executive Charles Saumarez Smith and ex-V&A boss Mark Jones.
Sir John Tusa, who runs the University of the Arts, where Scott Lidgett was a governor, summed up her working process as "good business deserved good friendship deserved good parties". A scholarship for a future fine arts student is being established in her name.
Daughter Holly acknowledged her maverick spirit. When she was to be expelled from school, her mother said: "Some of the most successful people have been expelled at least once."
Source: Standard
VirginMedia have posted the full trailer for David Tennant's forthcoming movie Nativity 2 Danger In The Manger.
The trailer can be viewed here
Source: David Tennant on Twitter
GQ Best-dressed man of 2013
David Tennant has been nominated in the GQ Magazine 2013 Best Dressed Man poll. Voting is at this link.
Source: David Tennant on Twitter
Our Boys Press Night and after party
On Wednesday evening, David Tennant attended the Press Night of Our Boys. There are photos of David arriving on Tumblr, WireImage and Getty
Some photos from Zimbio of David Tennant and Matt Smith attending the Press Night of Our Boys have been added to Tumblr
There are articles (with photos) in both the Evening Standard and on the What's On Stage website about both David Tennant and Matt Smith attending the Press Night of Our Boys.
Daily Mail has an article (with photos) of David Tennant and Matt Smith together at Our Boys Press Night
Dan Wooler has added more photos of David Tennant at Our Boys Press Night (including some of David with Matt Smith)
Source: David Tennant on Twitter
Links to download David Tennant's interview on the BBC America programme Doctor Who In The US have been added to Tumblr.
Source: David Tennant on Twitter
Wed 10 Oct - Nativity 2 writer Debbie Isitt appearance at CRE, Manchester including showing clips of the movie.
Fri 12 Oct - BAFTA Pirates day including a screening of The Pirates! In An Adventure With Scientists movie in Belfast.
Fri 12 Oct - New Doctor Who book is published with contributions from fans and celebrities to raise money for Alzheimer's Research UK.
Sat 13 Oct - Episode 5 of Comedy World Cup is broadcast at 7pm on Channel Four.
Sun 14 Oct - A panel on Twenty Twelve at the Cheltenham Literary Festival.
Source: David Tennant on Twitter