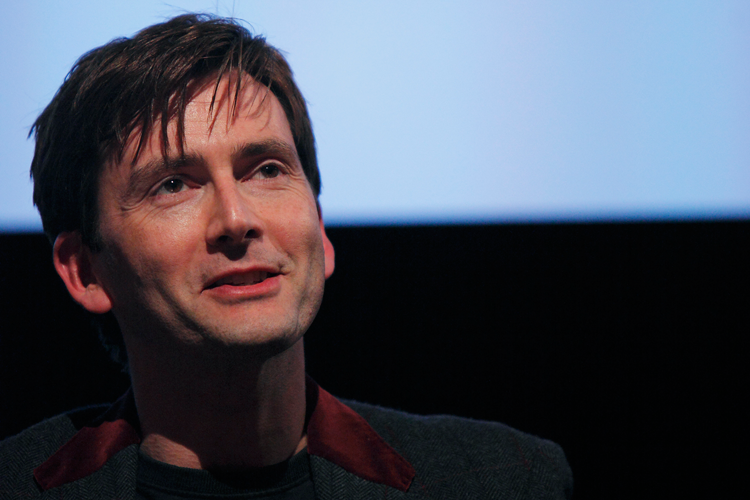 BAFTA hosted a Broadchurch Q&A on Tuesday evening, which David Tennant attended. More details here.
Source: David Tennant on Twitter

The ITV Press Centre has confirmed that Broadchurch will start on Monday 4th March at 9pm on ITV. More details here.
Source: David Tennant on Twitter
Amazon have posted the front cover of the Broadchurch DVD. It is released on 27th May.
According to makers Acorn Media the Broadchurch DVD will be a 3-DVD set. They are currently selling it for £19.99 including postage.
Broadchurch was reviewed on the BBC Radio Four programme Saturday Review from 7.15pm today. The reviewers were Tom Sutcliffe and guests artist Grayson Perry, playwright Laura Wade and writer Susan Jeffreys.
Click here for a MP3 of the six minute review but they all enjoyed the drama and said that they would be watching the series. The MP3 contains a clip of the drama. The first part of it is from the video posted yesterday but this audio is slightly longer.
More information here.
Source: David Tennant on Twitter
The latest Barbican newsletter for its members says that Michael Pennington will play John of Gaunt in Richard II and that booking at The Barbican for RSC Shakespeare Supporters will start on Tuesday 5th March.

Also at The Barbican there will be 10 seats for £5 at each performance for people aged between 16 and 25, plus 30 stalls tickets for only £10 for each performance which will go on sale at 10.30am at The Barbican each day. These day seats will be limited to one per person.
All other tickets at The Barbican will be £55, £45, £35 and £25. There are no reduced prices before the Press Night.
The website of the Royal Shakespeare Company now lists a Richard II performance for Saturday 7th December. This was previously listed by the RSC and then removed. It is not listed on the Barbican Centre website.
Source: David Tennant on Twitter
The Royal Shakespeare Company has confirmed that Thursday 12th December is the London Press Night for Richard II. The performance starts at 7pm that evening. The RSC has also confirmed that Wednesday 15th January is a rare London weekday matinee performance and not an understudy performance. This confirms that David will play 85 performances in total - 39 in Stratford-Upon-Avon and 46 in London.
Source: David Tennant on Twitter
An article in The Telegraph about theatre membership schemes mentions the high RSC membership sales to buy tickets for David Tennant's production of Richard II. However there are still lots of tickets available. For example, for the final Stratford-Upon-Avon performance there are 25 in the stalls, 35 in the circle and over 100 in the upper circle currently free.
Source: David Tennant on Twitter
The region-free DVD of

Tree Fu Magic was released on Monday. Available from Amazon and other outlets.
Source: David Tennant on Twitter
Penguins - Spy In The Huddle
A worldwide link to watch episode 2 in here.
Newspaper interview: The Times
The full transcript of David Tennant's Broadchurch interview in The Times has been posted to Tumblr. David also speaks about Richard II (it says that rehearsals start in August) and Doctor Who.