Taggart star admits new role is absolute murder
"It's one of the hardest things I have ever done," is how
Blythe Duff
describes her new role.
The former
Taggart
star might have defended herself against serial killers and tested her strength against murderous psychopaths as Detective Inspector Jackie Reid. But it's her new role as a mother serving a life sentence in prison that is proving to be her biggest challenge.
Firebrand Theatre's new touring production of Rona Munro's play
Iron
tells the story of Fay, a charismatic but manipulative woman who is behind bars for murder, and whose monotonous life is dramatically changed when she is visited by her daughter for the first time in 15 years.
After performances with the Borders based company in the Heart of Hawick and New Galloway, Blythe is back on home
turf with shows at the Tron Theatre on Saturday, November 10.
Blythe explained the appeal of taking on such a hard-hitting role, just weeks before her 50th birthday.
"It's been really torturous because it's a really hefty piece, very lyrical and really gutsy," says the 49-year-old.
"It's been challenging because it's taken a lot of energy and focus, not just because it's a difficult subject but because the language is very distinctive and it's been hard to get my head around it," she said.
"I feel like the play is in very good shape for facing the Glasgow audience. I think they'll respond well to the dark humour of the subject.
"When you have got a big birthday coming your way it feels good to do something really substantial and chunky while you're still energetic, and she's a cracking part to play.
"She's such a distinct character and she can spin a sixpence, but she wants to live her life through her daughter, which is what so many mums do for their kids. A lot of the issues in the play surround that universal mother and daughter relationship, it doesn't matter if you're sitting in a pub or in a jail, you're affected by those kind of subjects."
It wasn't just the prospect of exploring Fay's character that appealed to Blythe. As soon as she was invited to a read through with director Richard Baron she fell in love with Melrose and jumped at the chance to perform in different parts of Scotland.
For Firebrand Theatre the production of Iron is a major step forward, as it's the first time they have toured out of the Scottish Borders.
And for Blythe the experience has been like going back to her roots.
She said: "Although I've done so much theatre over the last four or five years, playing to 75 or 100 people is really like going back to my days of touring with education theatre groups.
"You're going to the toilet and it's the same one as 75 other people in the audience. After the show I had one man telling me the last time he cried that much was when he was watching
War Horse
."
Blythe added: "I want people in the audience to think about what it means to be locked up. I want them to realise that it's not some glamorous hotel, and there are so many things people take for granted in their daily lives. It's a full on play, warts and all and it keeps you on your toes."
Iron
will make sure it's an intense close to 2012 for Blythe, a year which started with a two and a half month tour in Australia and New Zealand.
"The East Kilbride born actress was part of the cast of
Beautiful Burnout
, a dance and theatre piece about boxing from the National Theatre of Scotland and Frantic Assembly.
Her role as Carlotta Burns and of course her
Taggart
connections saw her invited to receptions at the Sydney Opera House, meeting some of the STV show's Australian fans, with one starstruck DI Jackie Reid supporter even handing her his own script.
While she is full of praise for the "vibrant" Glasgow theatre scene, she says there is much to be desired about the number of Scottish dramas on screen.
Taggart
was scrapped in May 2011 after 27 years, and Blythe says it's left a gaping hole in the schedules.
She said: "There's not a lot of opportunities for television drama in Scotland which is a really sad thing, Scottish voices are just not being heard in the same way. There's a Scottish voice in an odd drama but there's few dramas coming out of here and that's something I'd like to see rectified.
"It might seem to be expensive to make but you can't sustain an industry if you don't have an identity, and you lose it at your peril.
"To see a drama run for 27 years is some achievement and we did really, really well. It's something I'm extremely proud of and it's a big part of my life.
"I don't miss the 5.30am starts - that was one of the toughest things and it was getting even more difficult to cope with each year."
She laughed: "I know my character is hovering about somewhere, it's just now she's doing her thing behind bars."
To book tickets for Iron go to the
Tron Theatre's website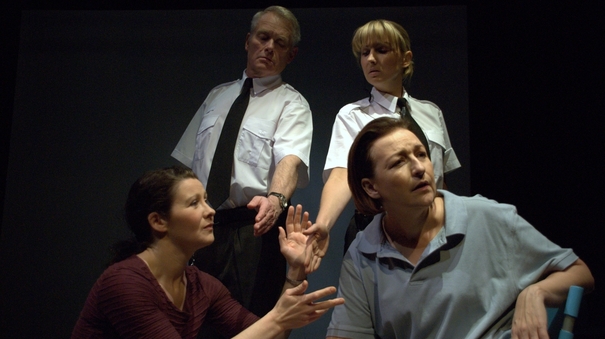 Source (incl. photo):
STV